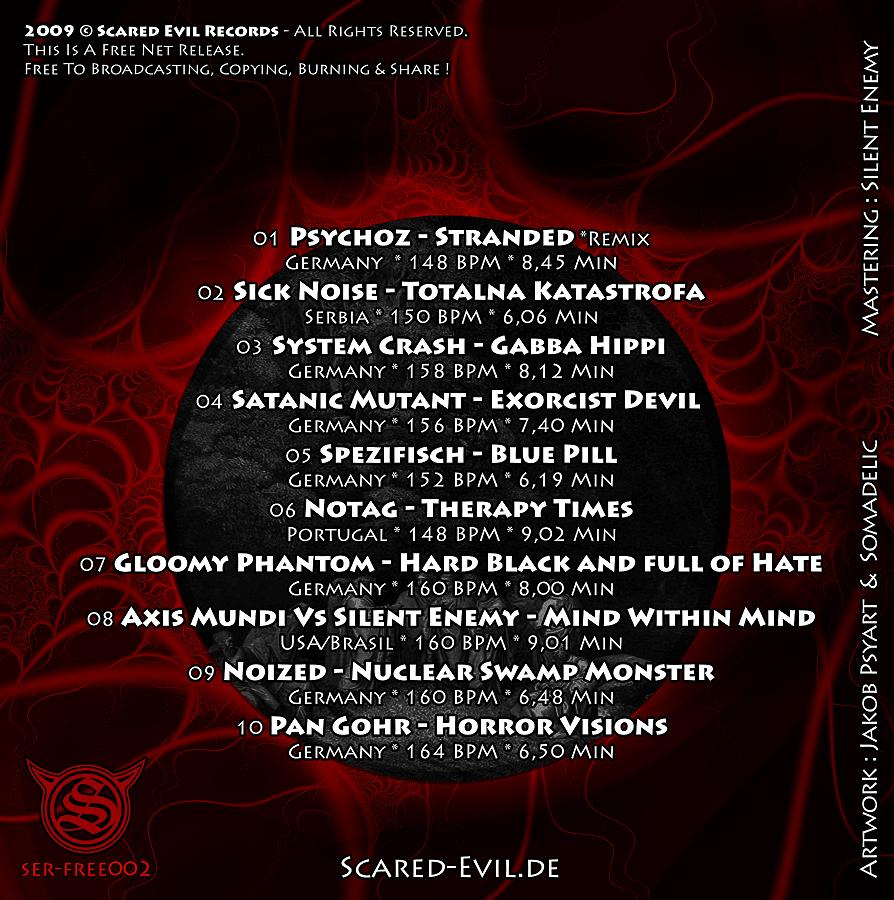 German dark psytrance label Scared Evil Records has been full of industry and productivity. Enthusiastically working to spread the carnal sounds of msic which explores one's more primal nature, its DJs and artists are spread aross three continents, creating ever more twisted tunes in the studio and performing regularly at some of the largest events in the US, Europs and Brazil, as well as selflessly releaing many of their creations free for the world to enjoy.
Enter their latest compilation, "Avernus", the first in a nine-album series of free dark psytrance compilations titled "Circles of Hell". Featuring ten tracks of gripping bassbeats, sense-shredding synth arrangements, and pulse-stopping intensity, this compilation encapsulates the talent and know-how of each of these artists perfectly, with nearly every bar packed with enough scary sounds to keep your feet jumping, your juices pumping and your hairs standing in formation along the back of your arms and neck.
01. Psychoz – Stranded RMX
02. Sick Noise – Totalna Katastrofa
03. System Crash – Gabba Hippi
04. Satanic Mutant – Exorcist Devil
05. Spezifisch – Blue Pill
06. Notag – Therapy Time
07. Gloomy Phantom – Hard Black and full of Hate
08. Axi Mundi Vs Silent Enemy – Mind Within Mind
09. Noized – Nuclear Swamp Monster
10. Pan Gohr – Horror Visions

Here is the Music Player. You need to installl flash player to show this cool thing!