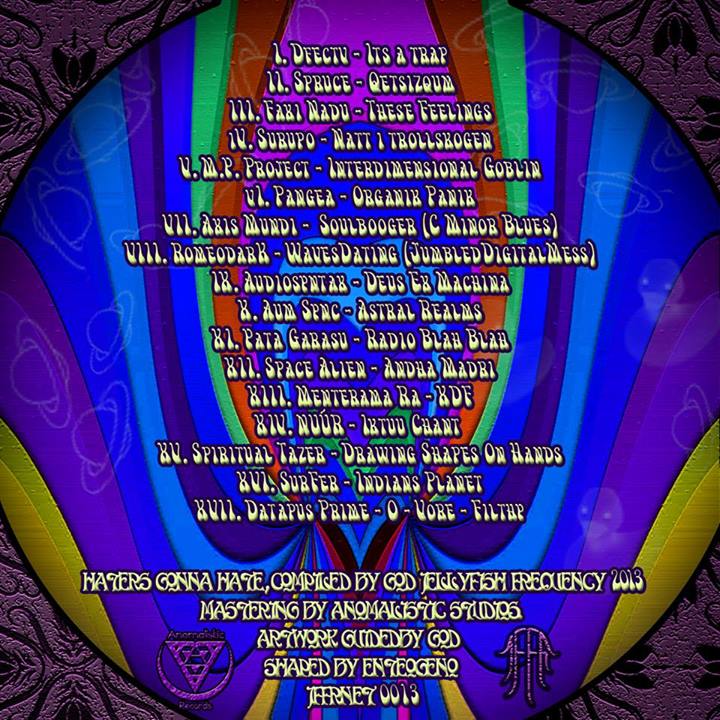 Various Zoo-plankton feeders unite to celebrate the release of Haters Gonna Hate… an avant garde psychedelic trance compilation designed with strengthened hearts and tranquil minds by none other than God.
Yes that's right.
What does Haters Gonna Hate mean you ask?
It means that people who don't like you will always find a reason to dislike you, no matter how stupid that reason may be. Rather than take it personal, just stride right by and keep doing your own thing.
In our 13th audio edition from JellyFish Frequency Recordings we are benefiting the Sea Shepherd Conservation Society. Check them out if you aren't familiar! www.seashepherd.org
"Sea Shepherd is an international nonprofit on the frontlines in the battle to save ocean wildlife worldwide. Be part of our life-saving efforts now!"
Featured intergalactic gelatinous creatures include: Spruce, Nu'ur*, Faxi Nadu*, RomeodarK, Dfectv*, Mentemera Ra*, Space Alien*, M.Y. Project*, SurFeR, Pangea*, Audiosyntax, Axis Mundi*, Datapus Prime – O – Vore*, Aum Sync, Yata Garasu, Surupo*, and Spiritual Tazer*.
Key:
* Indicates artist or group project releasing for the first time under JFFR.
credits
released 18 July 2013
Mastered by Jonny Cakes @ Anomalistic Studios (USA)
Artwork support thanks to the Good Lord Above (∞) and Enteogeno (MX)
01 – Dfectv – Its A Trap
02 – Spruce – Qetsizqum
03 – Faxi Nadu – These Feelings
04 – Surupo – Natt I Trollskogen
05 – MY Project – Interdimensional Goblin
06 – Pangea – Organik Panik
07 – Axis Mundi – Soulbooger
08 – Romeodark – WavesDating (JumbledDigitalMess)
09 – AudioSyntax – Dues Ex Machina
10 – Aum Sync – Astral Realms
11 – Yata Garasu – Radio BlahBlah
12 – Space Alien – Andhamadri
13 – Menterama Ra – XDF
14 – Nu'ur – Iktuu Chant
15 – Spiritual Tazer – Drawing Shapes On Hands
16 – Surfer – Indians Planet
17 – Datapus Prime – O – Vore – Filthy

Here is the Music Player. You need to installl flash player to show this cool thing!
Please consider supporting JellyFish Frequency Recordings and their causes with a donation