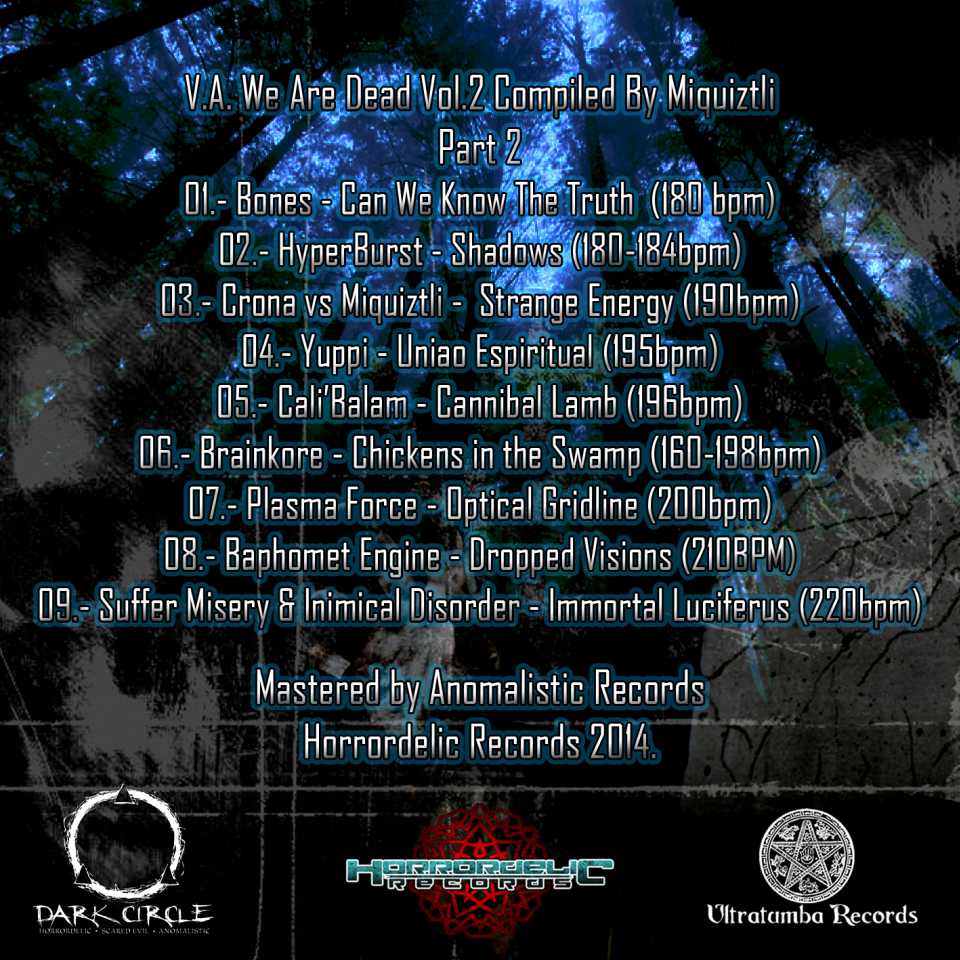 Released by : Horrordelic Records
Compiled by : Miquiztli
Mastering by: Anomalistic Records
Artwork by: Miquiztli
Horrordelic together with Ultratumba Records Produly Presents Vol.2 of "We Are Dead"..
2 Parts of psychedelic madness, compiled by Miquiztli (Mexico).  Steady rising bpm from 146 to 220. Every Moment Of Life Is A Step Towards Death.. We Are Dead.
Part 1:
01. Steganography – Anamorphosis (146bpm)
02. Paranoia Sector – Freak Tech (155bpm)
03. Psytuga – In Darkness We Learn How Bright We can Shine (155bpm)
04. Cispailonx – First Night Of Tregenda (158bpm)
05. Psy Horror Noize – Pancuronium Bromide (160bpm)
06. Ustawka meets Nasgul – Chaotic Space (160bpm)
07. Dhrupad – Mind Explosion (165bpm)
08. Aum Sync – When The World Makes Sense (170bpm)
[mp3player width=275 height=275 config=fmp_jw_widget_config.xml playlist=dead2-1.xml]
Part 2:
01. Bones – Can We Know The Truth  (180 bpm)
02. HyperBurst – Shadows (180-184bpm)
03. Crona vs Miquiztli –  Strange Energy (190bpm)
04. Yuppi – Uniao Espiritual (195bpm)
05. Cali'Balam – Cannibal Lamb (196bpm)
06. Brainkore – Chickens in the Swamp (160-198bpm)
07. Plasma Force – Optical Gridline (200bpm)
08. Baphomet Engine – Dropped Visions (210bpm)
09. Suffer Misery & Inimical Disorder – Immortal Luciferus (220bpm)
[mp3player width=275 height=275 config=fmp_jw_widget_config.xml playlist=dead2-2.xml]